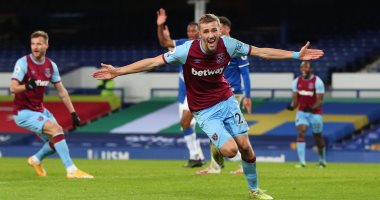 West Ham United snatched a fatal victory from its host Everton with a clean goal, in the meeting that brought the two teams together this evening, Friday, at Goodison Park, in the opening matches of the seventeenth round of the Premier League.
Everton vs West Ham
Thomas Sochik scored a goal for West Ham against Everton in the 86th minute of the match, after following up on his teammate Aaron Criswell's shot, to snatch the Hammers 3 precious points.
West Ham raised its score to 26 points, to occupy the tenth place in the English Premier League table, which is led by the Liverpool team, with 33 points, and Everton's balance stopped at 29 points, in fourth place.
The matches of the seventeenth round of the Premier League will be completed by a meeting between Manchester United and its guest Aston Villa team, at ten on Friday evening, at "Old Trafford".
Tomorrow, Saturday, 4 games will be played, Tottenham will host Leeds, Crystal Palace will play with Sheffield United, Wolverhampton will be a guest to Brighton and Arsenal will face West Bromwich Albion.